How do I change the ship date? Follow
You can change your next ship date two different ways in the change ship date area. On the customer dashboard, go to "Change Order Date". You will then have an option to delay the order by 1 week, 2 weeks, or select a custom date within the next 3 months. If you would like to delay the shipment any further, feel free to reach out to us via email, chat or phone and we are happy to assist!
**Please note changing same day as shipment is not allow and will not delay an order being processed. Please update 2 days before process day to ensure shipment is not processed.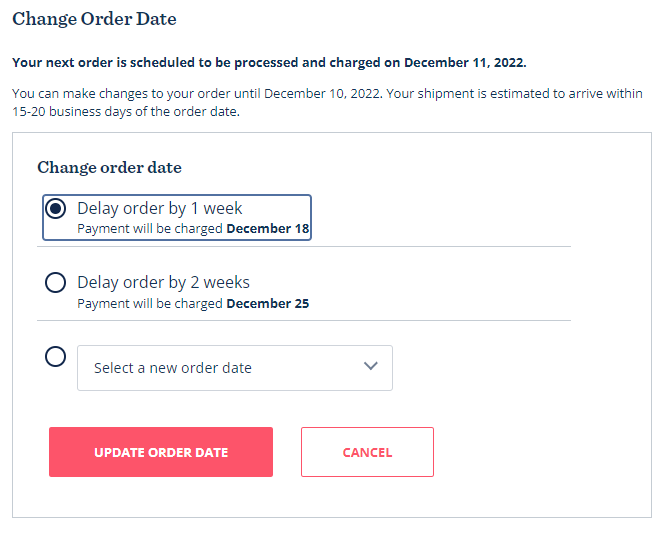 Additionally, please know that by changing your ship date you will not receive a reorder reminder email. A reminder email is only sent in cadence with the 28-day subscription cycle; anytime a custom date is selected by the customer we do not send a reminder email -as a specific process and ship date was selected. It is important to maintain awareness around your subscription, your next order date is also available in the banner of your portal when you log in to your account, as in this example:

Questions?
If you have further questions, concerns, or need additional help, please feel free to reach out. Our knowledgeable support team is happy to assist you. To get in touch, please use one of the contact options below: