Can I change my answers? Follow
Yes, you can change your answers by retaking the questionnaire at questionnaire at any time by logging in to your account and clicking on "Change Order" on the left-hand toolbar. From here, scroll down to the bottom of the page to click on the "Retake Assessment."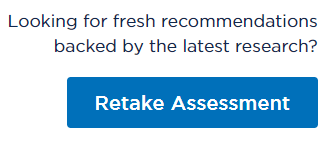 It is recommended that you retake the Persona Assessment at least once a year, or whenever there is a change to your diet, lifestyle habits, health concerns or medications.
Please note that the information provided here is only applicable to the Personalized Program.
Questions?
If you have further questions, concerns, or need additional help, please feel free to reach out. Our knowledgeable support team is happy to assist you. To get in touch, please use one of the contact options below: